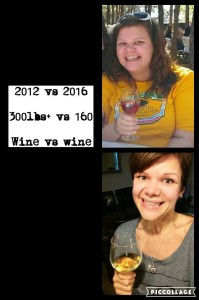 With only 26 days until my BIG 360 abdominoplasty–anxiety, emotions and to-do lists are through the roof. Everyone asks 'are you ready?' ' Are you nervous?' Well…the answer is as follows: FUCK YEA! (And if you were close to Paul–you read that as 'fooooooook yaaaaaa')
I have been preparing for this all year. I'm not really nervous about the surgery. I'm not sure if it's because I'm a nurse or because I have the utmost confidence in my surgeon or if it's because I've gone through it before but I'm just not really worried about that. I know they will take great care of me. What I am nervous about: the psychological. When I had my brachioplasty and mastoplasty done earlier this year, I really underestimated the psychological toll that it would have on me. After having some wicked panic attacks, bouts of depression and anxiety—I pushed my 360 from May 2016 to November 2016.
In preparation, I saw my psychologist that I saw prior to my bariatric surgery. We had an amazing session and he really helped me get a better grasp on what has been going on in my mind and how to better deal with it this go around. So let's dive into it.
What's my problem?
I have thought this entire time that I had a bit of body dysmorphic disorder but after speaking to him, it isn't so much that as it is that I'm experiencing a dichotomy.
a division or contrast between two things that are or are represented as being opposed or entirely different.
Basically, the more I change the less I'm me–in my mind. He assured me that this is very common in bariatrics but that my circumstance intensified this phenomenon for me. As most bariatric patients when they look in the mirror and have a freak out moment "OMG what have I done? I'm not me anymore! I don't look like Jessica!!" they would have a spouse or significant other or best friend that would be their anchor that would assure them that they are the same person.  If Paul were here, he would be able to stop me in these moments and say "Yes you are! Your smile is the same. Your eyes. I love you." etc… Each day they would come home and do the same routine.You might still gab with your best gal pal. You'd still be doing all the things that make you–YOU. These people are your anchors and they tether you to WHO you are. I was cheated out of this. I lost Paul. Then 6 weeks later my best friend of 20+ years cut off all contact with me. Because of the grief experienced by all of my family, I was disconnected, in a sense, from them. Essentially, I've just been free floating–not connected to myself.
There are interactions that add to me feeling disconnected with myself. I've talked about this before–in my mind I'm the fat girl. It is who I have always been and in my mind I'm still that girl. There have been countless instances where people have made comments or looked at me like I'm skinny. BUT in my mind (and I probably wear it on my face), I'm like 'what the fuck did you just say to me? Don't you know I'm a fat girl, too?' And these instances make me feel like I'm even more not me.
To add insult to injury, I have a large amount of guilt. I feel that Paul was jilted. And although I know rationally that I haven't taken anything from him, I feel almost that the more I change, experience life and go on with out him that I am jipping him. He was there through nursing school and he supported me in my decision to get healthy but he doesn't get to reap the rewards of these things. And it fucking sucks!
So the panic that I felt after surgery was pretty much all of this–wrapped up in an anxiety ridden ball of mess. And I exploded. Because plastic surgery is instant. With the weight loss, it has been gradual. And the blows to my 'identity' are like little pricks. But when you go under the knife then you wake and 'BOOM' you look like someone else…it's overwhelming!
What's the solution?
I've gotta change my mindset. I've got to realize a few things here. The first is that of change. VERY few people actually like change. We are all creatures of habit. I have to recognize and accept that I DO NOT have control over change. Change was ultimately going to occur whether Paul died or not. Would my path have been different than this? Yes. But it was going to be different nonetheless. I could look at it this way: what if I didn't have the surgery? I could be 400 lbs with DM, HTN, CAD and working my way to a heart attack. Change is hard. But what makes THIS change hardest is that I had a hand in the change. I DECIDED that I didn't want to be obese anymore so I CHANGED it. I DECIDED that I didn't want saggy boobs and bat wings so I CHANGED it. I DECIDED that I didn't want to have a flap of skin sitting on top my vagina so I'm CHANGING it! All of these things, I've perpetuated the change. And referring back to the beginning…the dichotomy…here lies the problem.
My psychologist asked me a really insightful question: "Jessica, do you think that you were living a genuine life before?"
I really had to think about it. I thought I was but, now, I look back and know that I wasn't. I think about alllll the reasons that I had that motivated me to change: I wanted to travel, I wanted to be active, I wanted to be social, I wanted to sky dive, I wanted to ride rollercoasters, I wanted to dance, etc. I didn't do ANY of these things as I reached my heaviest weight and THAT was disingenuous. So in actuality, it is NOT that I'm leaving Paul or that the more I change that I'm not me–it is that the more I change, the MORE genuine of a life I am living. I am being true to who I am, how I think and what I want. And I probably am living a more genuine life than ever before and I am coming into my own. Living my life and having all these experiences and accomplishing things that Paul and I dreamed of is not leaving him or jilting him: it is honoring him. I'm wearing my Paul Badge of Honor every day of my life now.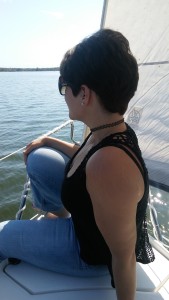 I have felt significantly better being able to put all of this together. It is a working progress just as I am. I'm extra emotional as we are now at the end of the year. October-December used to be my all time favorites but now they are riddled with bitter sweet memories, heart wrenching moments and even more intense thoughts of my dear Paul. October 25 he would have been 32. November 12 marks the second anniversary of his death, my surgery and the end/beginning of my life. Then we have alllll the holidays—all his favorites. It's a rough time of year for me and the family. We miss him dearly. And it is hard. It helps to talk about him. I've been seeing him in my dreams more often lately. And for a moment in my slumber all is well and then I wake up.
Pushing forward. That's what I do. That's what you should do too. Paul doesn't get to be here but I am and you are. I refuse to waste it even though I'm still working on my identity.
Much Love!