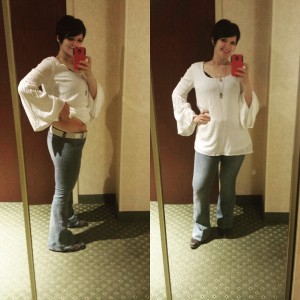 These last two weeks have seemed to drag on and pass too quickly all at the same time. Physically, I'm getting stronger. I feel a little better; a little more like myself each day. I haven't been sleeping too well lately. I know I have a lot on my mind. Like I said in my previous post, March is an emotionally heightened month for me.
I can't believe in just a couple weeks, I'll be 30 and Paul and I would have celebrated our 4th wedding anniversary. It's rough to think about. And still seems unreal. His picture sits on our mantle and sometimes I just look at it and kinda have a conversation with him. I don't believe he is here in any sense other than my own memories and the memories of others; but there's some type of comfort in 'talking' to him. I was doing my crunches the other day and I looked up and saw that picture: I was like bet you'd never believe you'd see me doing this so diligently. And I kinda chuckled. Then I was sad. I'm sad now.
Lisa and I just celebrated our 1st anniversary. Wow. Let that sink in. I can't believe it's been a year; in so many aspects. She is incredible. We have such a good time together. We don't fight or argue. We don't lack passion. She gets me. We just enjoy each other's company. She makes me want to keep pressing forward and supports my healthier lifestyle (even when I don't want to). We have already had so many adventures and both ventured outside of our comfort zones and never once regretted it. We are going to the Bahamas in less than 2 weeks and we are beyond thrilled. On the flip side, it's been a year that I've been with someone other than Paul. It's been 480 days since I saw Paul; since I heard his voice. I think he'd want me to be happy. In fact, I know he would. Despite knowing this, it doesn't make it any easier. I miss that goofy guy.
I have had several follow ups with my physicians and had my concerns addressed. I spoke to my primary doctor about my weight (number) obsession and where I need/supposed to be. She told me that she thinks it is absolutely reasonable to get to a weight which would allow me to NOT have a diagnosis (i.e. overweight). According to the BMI, she would like to see me at 147lbs. I am currently weighing in at about 158. As per my plastic surgeon, I am 'allowed' to lose up to 12lbs without worry of disrupting my plastic surgery. And I have, approximately, 7-10 lbs of skin left to remove. Anyways, those are the numbers. I know a lot of you don't agree with watching the numbers. But when we completely ignore the numbers, it's easier to slip. It's easy to add a lb here, a lb there until we have now packed on 20 lbs or more. I've done it so I know first hand. The scale is not a measurement of who you are. It is merely a measurement of how much you LITERALLY weigh. I choose to use it as an accountability tool; not as a means to define me as a person but, rather, as way to keep me on the track I worked so hard to be on. My dietitian and exercise physiologist have agreed that weighing weekly is a good way to stay on track. It works for me. So that's what I plan to do.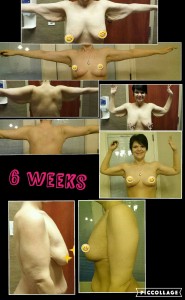 My plastic surgeon told me that the skin at my elbows is normal and allows room for my elbow to bend. I didn't really  believe him so I've been checking out EVERYONE'S elbows that I pass. And, more often that not, that skin is there except on the very skinny people. Weird. I've never noticed before. He told me to continue to take it easy on my arms, that they are healing still, and to pay close attention to my elbows as to not bump them. That piece of skin under my right arm is a 'dog ear' which is a fairly common complication with skin removal. He told me that it's easily fixed in the office but would like to give my body 8 more weeks to heal. My right boob is so much better. The bruising is gone but it hasn't completely settled down. It's still sore and hurts. My t-rex arms are getting better. I can reach things a lot better now. I'm still numb on the lower half of both breasts and the backs of my arms. It makes it difficult to get comfortable. I still am having to sleep on my back and prop my arms on pillows to be comfortable. It's difficult to explain. It's not necessarily painful (on my arms; it is on my right boob) to put pressure on it; it's just weird because it's numb. Like, I can feel, internally, that pressure is being put on my arms but I can't actually feel it superficially. It's not a pleasant sensation.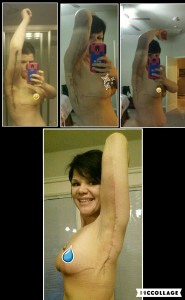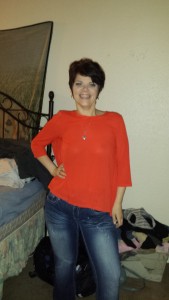 I've stayed on track with exercising. I've done a minimum of 200 crunches every night for over 2 weeks. I've now incorporated arm training and squats (alternating days). It feels pretty good. I'm really hoping to get more consistent on my morning walks but I've just been so tired from not sleeping well that it hasn't been happening like I'd like it to but I do plan on going tomorrow morning.