It's been awhile since I posted regarding changes with my body and the progression since surgery. I was supposed to have a follow up with my plastic surgeon today for a check up and to fix the 'dog ear' that is at my right armpit but on my way to the office they called and cancelled. Wicked annoying but oh well.
Post Op Progress: I am just beyond pleased with my results thus far. I now have full range of motion to both arms. My right breast is normal in color and has also dropped so it is now where it supposed to be. I'm regaining SOME feeling but still have quite a bit of numbness. I'm pretty much numb from nipple down to incision on both breasts. The right one more significant than the left. My arms are numb about a centimeter from the incision both ways. The semi permanent sutures on my arms still poke me. More so on the right than the left (which if you recall, he had to do much more work to my right side). The poking is just an annoyance but not actual pain. I'm hoping to get in to see the doc soon because I want to start with some creams to help with the scarring. Although, I'm still pleased with the scars. I know there will be significant improvement over the next year and they are already so fine.
I always knew that my arms bothered me. I did everything that I could to cover them up but, let's face it, when your arms are as big as thighs they are not easily concealed. I was always so aware of them. Then as I lost the weight, it became so much more noticeable because they literally flapped. Is this vanity? Sure. But I truly believe that you need to feel comfortable in your skin and I just wasn't. It is so wonderful now. I don't have to worry if a shirt has enough stretch in it to accommodate my large arms. I just wear whatever I want. I love LOVE wearing sleeveless and even strapless. Sure, I have stretch marks and now slightly prominent surgical scars but they don't bother me. What's that phrase about earning stripes? Well, that's how I feel. Being the girl that has worried her entire life about everything including how I looked to others, it is beyond a relief to feel so much more comfortable in my skin. I'm so thankful.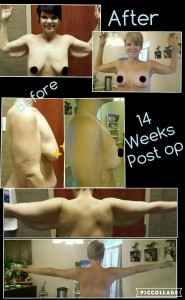 Diet & Exercise Struggles: Moving along…so Lisa and I got back from the Bahamas about a month ago. Geez, it sure doesn't seem that long ago. Before vacation, I was wicked committed to diet/exercise in preparing for the BIG surgery at the end of the year (360 abdominoplasty) buuuuut fell a little off of the wagon since vacation. Although, I have recommitted and had a fairly healthy/successful week. I've been cooking/meal prepping more and getting active. I downloaded the Google Fit app and I really am enjoying it. Mollie and I went for our first jog in forever a few days ago. To my surprise, we completed about a mile without stopping or slowing. I know that doesn't seem like really far but to us it is. Then we did it again this weekend and went a little further than a mile. I'm no runner. Not even close. I absolutely loathe it. Although, I will admit that you feel a sort of accomplishment when you're finished and it just really makes me feel amazing.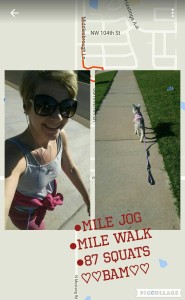 Grief: This past weekend was Paul's great-grandmother's 90th birthday. I'm so thankful that his family still considers me family and I was included in the celebration. It was so wonderful to see everyone. Grandma looked wonderful. His TN family even came down for a less than 24 hour trip just to celebrate. That was truly amazing. I couldn't help but feel a little melancholy. The restaurant they chose was the one that we had our rehearsal dinner at about 4 years ago. And at the end, when they collected grandma at the door, I thought about the last time I stood in that VERY spot…when I had my last 'single kiss' and I missed Paul terribly. He would have been so stoked to have been there that day. And his brother John…oh man…you just see so many of the mannerisms of Paul in him. And it brought a smile to my face and tugged at my heart strings. But I am so very thankful I was included on that day.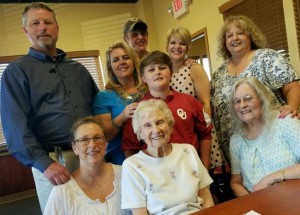 Looking Forward:  Recently, Dietbet (which is an online community that is dedicated to motivating individuals to work towards their health goals) reached out to me to add me to their Hall of Fame. I'll probably write more about it later but, in short, my story inspired them and they have written an article about me and plan to publish it this week. I'll put up the link soon.
In all you do….one step at a time
!