Oh man. Where to start? It's a long week or so.
Let's start with my physical stuff. So, my right boob has been concerning. On February 2, my supervisor went to take her jacket off, turned and accidentally 'punched' me in my right boob. If you recall, my right boob required more reconstruction than my left and has been more painful and not exactly aesthetically pleasing. When this happened, it knocked the wind out of me. I didn't really put 2 and 2 together at my 2 week post op appointment when the medical assistant questioned the new bruising on the 4th. At work the following day is when I realized the two were linked so I called my doc. The bruising progressively worsened and they wanted to see me the following week. I had my 3rd week follow up this past Wednesday day. He squeezed and manipulated my breasts. It was awkward since I don't have feeling superficially to below my nipple. He told me I had 2 hematomas and that he could feel that an internal suture(s) ripped causing the bleeding. He needed to evacuate it! He stuck a 2 in. 18 gauge needle through my incision around my nipple and moved the needle around, pulled back on a 20 ml syringe trying to find the pocket. He got out 5 mls of dark red blood. Nothing else. He felt again and said he need to try again but would have to go through the breast. Eek. He attempted 3 additional sticks. Ouch. Although I have no feeling on the surface, I do have deep sensation. I started to sweat and turned ghost pale. He wasn't able to get anything else out, sadly. He told me to just watch it and that it'd hopefully resolve. He was concerned regarding the possibility of infection. Since my appointment, my bruising has significantly reduced and the color is now green so I'm happy about that. His assistant called me yesterday to check on me and my doctor is still concerned so he has started me on a round of antibiotics. Better safe than sorry.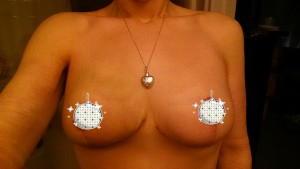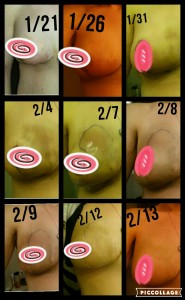 Otherwise, my incisions are healing well, I'm sleeping better (no more night sweats), I'm rarely requiring tylenol and the tape residue is ALMOST gone. My incisions are so fine and I'm excited to see the end result. The only source of pain is still under my arms. Constant bending of the incisions and chaffing is sometimes unbearable! My doctor told me it was my compression garment so I've tried just sleeves. Nope. I've tried gauze. Nope. I've tried bandaids which have helped the most buuuut then they chaff my actual armpit. Ugh. The struggle. Now, I'm using zinc oxide (baby butt paste which is helping). My 4 weeks is Tuesday and I no longer have to wear my compression sleeves unless I want to! That's exciting and no compression garments does feel best on my underarms. Although, I still don't have feeling to my incision sites to about a quarter inch on both side of it so it's a weird sensation. And it makes me paranoid that it'll rub on somethings so I'm now wearing long sleeves and I foresee me wearing compressions at work this week but we will see.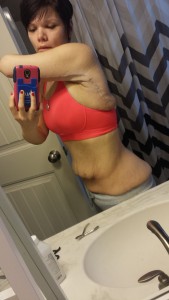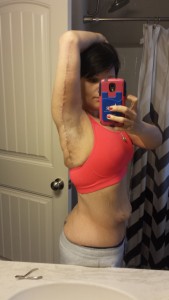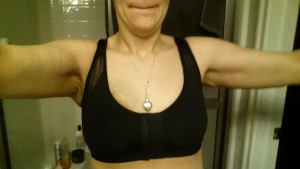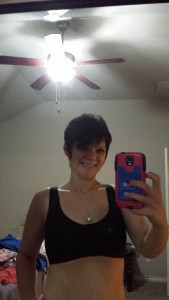 I had my first therapy session post operatively. It was much needed and very over due. I feel like I word vomited all over her the moment my booty hit the couch. I've been struggling. My anxiety has been on high. Feeling a bit depressed. Feeling upset that I'm upset. And isn't that some shit? Not only to have these feelings but to, also, have feelings about the feelings. It's a bitch! I've been missing Paul more intensely. I feel guilty. I feel alone. It's all a bit over whelming really. In my session, I said multiple times "I've wanted this as long as I can remember and these feelings are absurd. ABSURD!" Her first response to me "how about you give yourself permission to feel the way you feel?" I sat back. Sighed. And thought 'well isn't that a novel idea?' Ha ha. It's literally never occurred to me. And I let that thought soak in and I said 'okay'. As she summed up what I said, the series of events is very overwhelming and the thought comes to me 'well holy fuck dude. That's kinda like a lot'. And Lisa has told me most of these things but I guess there's just something about the third party, impartial somebody saying it that makes it stick. She reinforced that my mind, my heart, my body has been through a lot in this past year. She told me that I'm now having to grieve the loss of my 'body' while in the midst of grieving over my husband. It's okay to be upset. It's okay to say I'm not where I want to be. And in the moments of chaos, it's hard to realize that it won't always be this way. I won't ALWAYS feel this way. I won't ALWAYS feel out of control. Eventually, it will pass. She also brought up the point that I'm not as active as I'm used to being which effects my mind and body. I'm a very independent person that is temporarily at a point where I'm having to ask for help and not in a big way…in the small ways and that has an impact. Man oh man. I needed that reality check.
My mom gave me this little sign over a year ago that says: "You can do ANYTHING. You just can't do EVERYTHING". I think I have to realize and accept my limitations. I have to learn to be okay with them as they are a part of me and make me human.