Six years ago, Paul told me that he loved me. It was after dating just a few weeks. It was the sweetest moment I had ever experienced in my life. It happened while lying in his bed. He was so nervous. And he told me in the form of a question "What if I told you that I loved you?"He had stolen my heart many times and long before this moment.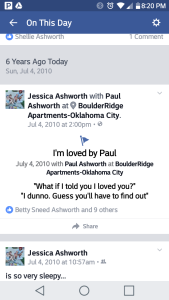 This has been an amazing weekend. I got my guest bedroom put together. I had started this in preparation of my sister and niece coming down but they weren't able to make it. It was a trying experience as I had never installed a ceiling fan nor put together large furniture before. I had a moment of a pity party as I wanted to get my ceiling fan installed but was having a trying time getting someone/anyone to help me. My thoughts…"Paul should be here to do this" "My girlfriend's back is out" "My husband is dead and I have no one to help". But then…in the moment that these thoughts flooded my mind, I paused Netflix and retrieved the ceiling fan box. I told myself…"You can do this" and about an hour and a half later I had installed it. I felt so accomplished in so many ways. I finished the room the next day and my brother told me he was coming into town! I was elated! So this fourth of July weekend has been amazing. Filled with family and good times.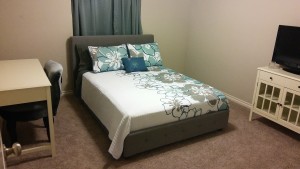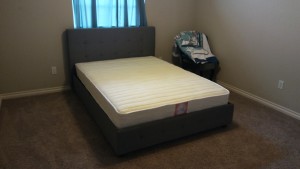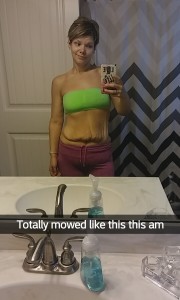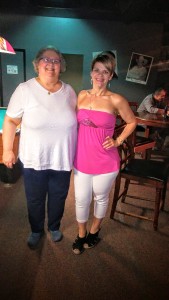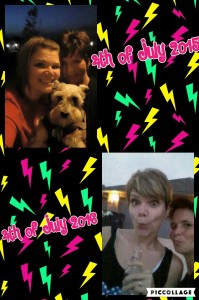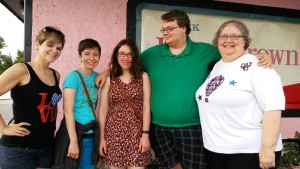 This morning, I was checking my memories as I do each morning and there was a post from my long time former friend and, suddenly, I missed her terribly. I've written very briefly about her. I don't feel the need to go into detail about what has transpired but I will say after a 20+ year friendship, the death of Paul and an accumulation of events, she decided she couldn't be my friend any longer in January 2015. To say I was heart broken would be a grave understatement. My world was shattered and then shattered again. I had no idea how to cope. I've truly struggled with the loss of my friend for the last 18 months. I have messaged her periodically to let her know that I still think of her and love her. Although, I had resolved over the last few months to let her be; to let it rest. But the memory popped up and the emotions that I had were over powering. I just had to say something. So I did. I let screen-shotted the memory and sent it to her. I let her know that I wished her well and missed and loved her. To my pleasant surprise, she responded. I won't go in detail regarding the correspondence but I will just say that I was thankful for the correspondence nonetheless. After 18 months, she told me that she would like to continue to talk. Omg. I had to reread that line about 5 times because I truly never thought I'd see that response. I can't even describe to you what kind of emotion and joy this brought to me. I read these words while surrounded by my brother, Lauren, their dear friend and Lisa. And I couldn't be any happier than I was in this very moment.
Last year, I talked about this moment several times with my therapist. About if there would be bitterness or resentment if there ever came a time when she would reenter my world. Although, I was convinced the time would never come, my therapist made me talk about it. I'm thankful to her right now. As I was able to speak about this months and months ago. So, I suppose somewhere in my mind it had laid dormant. I'm not bitter. I'm a little sad that so much time has passed; that I've missed her moments; that I've missed watching her girls grow over this time; and that she's missed some pivotal moments in my life. But above all, I'm thankful.
I reflected aloud to my brother and family today…that although I would never have made the choice to not have her in my life, I recognize that in her absence I've also grown and probably in ways that I would not have had she been a constant in my world. My mom told me this week "Jessica, you have changed. You are not the same person you were." And although it was not in the context of my relationship with friend, it still applies. I am different. I recognize this about myself and my life. I have grown in ways that are inconceivable. In ways that I never would have dreamed possible. In ways I never would have thought to desire. All this aside, I'm thankful for the growth. And much like with all the wonderful, unexpected surprises of my life, I welcome it.
When I speak to others about my weight loss journey, it is often that I'm asked if I was unhappy. My response is that I wasn't aware that I was unhappy. I wasn't aware that I was controlled so vastly by my obesity. Much like that, I wasn't aware that there were aspects of my personality that had such a substantial impact upon my relationships, friendships and own self worth until they changed. The old me could very well have held resentment in my heart but this new me knows that there is no need. The old me would have felt the need to prove my point but the new me recognizes that it isn't necessary. The old me would have been angry that so much time was wasted but the new me is excited and hopeful to cherish the time regained in our future…the what-could-have-been is now the what-will-be.
I'll say it until my last days, this life is precious and it is incredibly short. I don't want to get too excited about what could be but I'm surely joyful at the possibility that was once impossible.
Happy 4th, y'all!! Home of the free, because of the brave! Thank you to all the brave soldiers, past and present!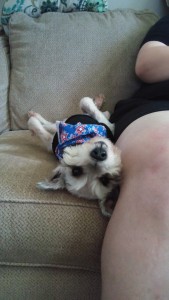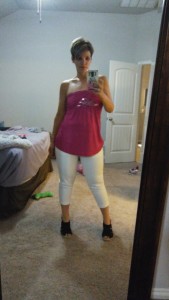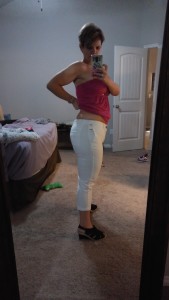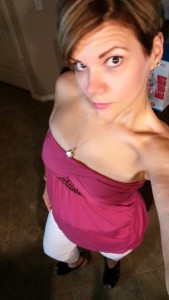 Goal Pants: Size 6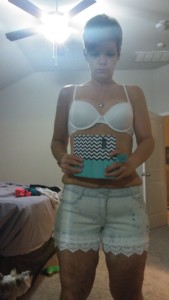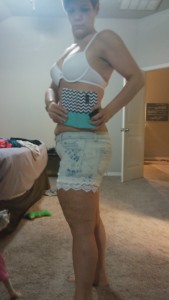 Working on flaunting my legs. Bought new shorts. Junior size 11. Very loose but comfy.