How precious is this life? And how short is it? I'd venture to say that most of us would admit that life is undeniably precious and that the years pass by quickly. Yet how are we living it? Are we living it for the moment? Or are we wishing it away?
I'd say that for most all of my life, I have wished my life away. Not on purpose of course but, rather, by accident. I've hated my body, worried about finances, striven for stability and put off my life for the unforeseeable future that would, without a doubt, reflect my work—the perfect me in the perfect life. I'd be thin. I'd have no debt. I'd be in the perfect career. That's when I'd live. Right? Wrong. Your life is what happens while you're putting off for tomorrow. Paul changed my life in so many ways. And although I have few regrets, the one I do have is that I could have worried less and lived more. And in his death, I've found life and I have realized that this is my life and this is as good as it may ever be and damn it that's pretty good. I've been listening to a lot of pod casts and reading up on self-love. I have done a lot of self-reflection. And what I've realized is that I haven't always been good to myself. I haven't loved myself. Over the course of the last 18 months, I've had quite a few life altering events take place that have led me to this new outlook on myself and my life. I can't really pinpoint when or what actually did it; I think it's just the collection of events.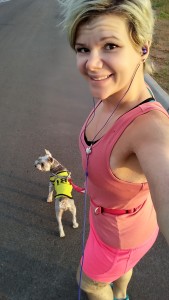 I want to worry less…less about what I think others think of me, less about what might happen, less about all those things and people I can't control. I want to love myself and treat myself the right way…the way I'd treat others. What does this look like for me? As with anything in this life, you get what you give. Put good in; get good out. So I try to nourish my body with food that makes me feel good but not in the way it used to–not to feed my emotions but to literally nourish my body. I move—I have a non-negotiable with myself and that is that I move every day. I'm not an avid runner; I'm an avid couch potato. Ha ha. But I have realized that my body needs to move and when I move it, it responds by feeling good, losing/maintaining weight and increases my quality of life. I'm working on nourishing my mind and my soul. I'm doing this by ridding my life of negative people, negative attitudes and habits that perpetuate anxiety. I try to live out loud. I laugh frequently, help others on their journeys and try new things. I want to make sure that when my time comes that my life was lived and not just 'survived'.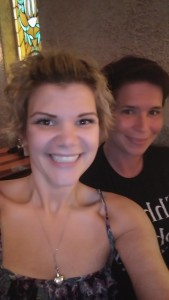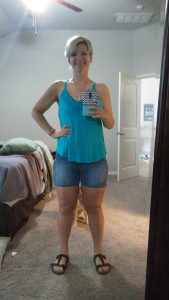 Recently I ran into a former co-worker. A lady that amazes me. She has this amazing soul and an infectious smile. She's a survivor. When she saw me, I recognized the stunned look. It's the one I get from those who haven't seen me in a while. I used to almost feel embarrassed not from shame but rather from the attention that my weight loss would draw. I don't really feel that way anymore. I smile and I let them 'ooo and ahh'. I frequently joke 'I've lost a couple pounds huh?'. I take these interactions as a pat on the back and affirmation that I've made a positive improvement in my life. She shared with me something that truly made my heart smile. She told me that Paul's death changed her life. That seeing the pictures that I post made her think about the lack of pictures that she has of herself. She went on to tell me about how she often takes pictures of her children but hides from the camera as she is not satisfied with her physical appearance. And she teared up as she told me that she thought about if she were to leave this Earth that her kids wouldn't have photos of her. And so now she takes pictures frequently; when she sees me post one of Paul's pictures that I share that she flips her phone and takes a picture with her kiddos. I was so very glad that she shared this with me. I'm even more thrilled that she seized the day and accepted where she is right now because this life is precious. It's meant to be celebrated.
As some of you may remember in April, Waybetter.com published an article about me. Well, they reached out to me a few days ago stating "we are working on our weekly email and this week is our inspiration week. We wanted to use your story because it was so inspiring and touching. I was going through your blog and came across your amazing wedding photo'. Wow! I was shocked and in awe. Then the email went out and my friend tagged me on Facebook.  The headline reads 'A story to renew your faith in human resilience' and below my wedding photo 'love, loss and strength fuel this powerful story of one woman's 150-lb weight loss'. It's amazing to be recognized for my weight loss and I love that my story has gotten to reach who knows how many people.
How amazing is that? When I started this blog, I thought to myself if Paul's death could just change one life…
And he has impacted so very many. It makes my heart and soul happy.
You can read the article at…
http://www.waybetter.com/WayBetterToday/waybettertoday/inspiration/how-i-overcame-worst-tragedy-imaginable-and-lost-150-pounds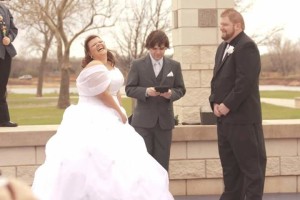 That's all for now. Show yourself some love. Give your body gratitude. Hug your loved ones. And live this day to the fullest. You deserve it and so do your loved ones.