First time riding a bike in forever and I did it in DC!!!!!!
At support group recently, they spoke about the scale and how it can fluctuate. The psychologist asks 'where is the cut off'? Is it 3lbs and you're freaking out or are you like 'we're cool. we still look good"? I thought it was any interesting point. I've never had an actual number in mind that I must stay at. I can get so very focused on the scale though. It's actually quite ridiculous. Now, I know there will be lots of you who say it's just a number, to not be a slave to it and to put it up. But to me it's much more. It's accountability. And I need it. Do I need to get on it every day? No. Weekly? I think so. It helps me keep myself in check. Although, my constant goal has been to reduce my weight and not regain. So it's hard for me to say if there's a number that would freak me out. To this, I have to refer to my why (which I'll talk about momentarily). My hope is that I get to a point where I'm living and loving my life and the skinny me and that that will be most important. But I hope to always use the scale as a tool to keep myself in check as I never want to be obese ever again.
Another point that was made in support group was if we felt we would be successful or if we were doomed to fail. In Overeaters' Anonymous, they follow steps much like that of Alcoholics' Anonymous. I think the first step says something about admitting that you are powerless over your addiction. So are we powerless over obesity and food addiction? It seems like a simple "hell no" answer because I believe I can do anything I set my mind to…I'm independent, smart and stubborn–the opposite of powerless. Yet, I've been obese All.Of.My.Life. I hit a pivotal point, where I decided to change my life, change my circumstance–that's when I found my bariatric program. I took control of my life and my future. And I truly believe that if I use my tools, the lessons taught and I eat/exercise the way I am suppose to, I'm 100% confident I can keep this weight off. That's an interesting thought though. Something like 50% of bariatric patients regain weight. It's a real thing. It's a legitimate concern. I think this is cause even more so to find our why and be committed to it. I think that's the difference.
I am trying my best to transition my life and my thoughts to the 'after'. What does that mean? If you're overweight or obese, I know you've had the same thoughts: "when I'm skinny" "If only I were thin"…
So I'm working on what that actually is. In hindsight, I sure wish I'd spent a little more time on figuring out what that is and what that would look like. I know that I heard it many times, in many different forms: define your why. What's a 'why'? Essentially, your why is the reason behind your desire to become thin or to achieve your goals. Without it, I think, you are more prone to slip back into bad habits and lose focus. Or rather, focus on the wrong things.
I've been in a lot of therapy. I've gone to a lot of support groups. I've heard a lot of weight loss and weight gain stories. I love reading self help books and I'm now, thanks to my beautiful friend Kati, addicted to podcasts. At the tip of my fingers, countless hours and words of inspiration. And what I've found or, rather, what has been reaffirmed is that we need our why. We all do.
So I sit here and I reflect on that and what it looks like for me. I know that in the beginning, my desire was to lose weight so that I would look better and feel better. That's not a bad motivation but it is only skin deep. With the loss of my Paul, I feel I've really been forced to look deep inside myself and better define what I want this life of mine to look like.
I would like to turn my focus on what my 'after' looks like….what does it look like when the weight comes off? "Thin Jessica". That's what she is in my head. I lead an active lifestyle. One where I try new things and I don't let my anxiety hold me back. I give back to others by sharing my experiences and encouraging them to do better, to be better. I look at myself with love and I'm proud of all I've accomplished. I no longer eat my emotions; I eat to fuel my body. Although, I will forever be the girl who will always pick cuddles on the couch over hikes in the mountains; I will move this body. I will get my exercise in because it's what my body needs and deserves; exercise is a way to release frustration and empowers us. I will celebrate my successes and forgive my errors. I will continue to move forward. I will delight in the life I lead. I will collect experiences instead of excuses. I will live. I will live for myself and for my Paul. His life ended where my new life began and I feel forever humbly obligated to honor his life by living mine. It would be a great tragedy to live any less than that. So I choose to live out loud.
That feels good to put ink to paper, so to say. Now have I accomplished all of these things? No way, dude. Am I continuously working towards it? Absofuckinlutely.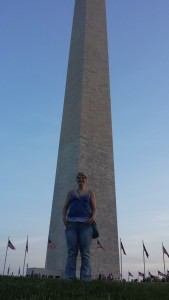 So just a little update on some accomplishments and successes in my life: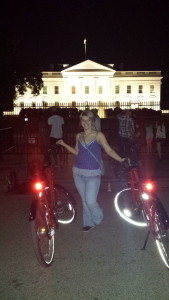 This 'gotta have a plan for everything' girl decided to go on a trip. I booked a flight and visited my brother in Dallas and my friends in DC for a quick 4 day vacation. I will continuously feel so excited to fit in the airplane seats with ease. It's just so freaking exciting! My wonderful friend Kati took me all around DC where I got to see some amazing history and monuments. The highlight of the trip? We rented bikes and accidentally stumbled upon the White House (as she said it was rather 'anti-climatic"). I was so nervous to ride that bike. My tippy toes barely reached the ground and I feared I would fall. Just hours prior to this I was preaching to Kati about experiences, she turned to me and said "collect experiences". Bam!!! And it was wonderful and freeing. I felt like a kid. She said 'is this your first skinny ride?" Bahahaha. Well, yes yes it was as I'm the thinnest I've ever been. I remember even as a kid that the weight of my ever growing booty would hurt on the seat but not this time. It was amazing!!!!! In that short weekend trip, we hit 5 states that I hadn't been to (MD, VA, NJ, PA,DE).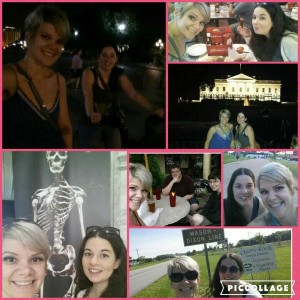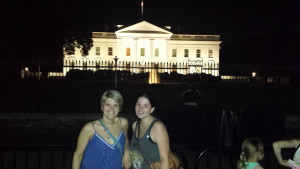 At work, I had started this Office Biggest Loser that was from January to April. Well, I'm excited that several girls wanted to continue and so we started a monthly challenge. We just finished up May and the winner lost 4.23% of her body weight. She was so elated. It was truly amazing. I felt like I was the winner. It gave me so much joy to see her succeed, to make healthy choices and her legitimate excitement to do what she didn't think she could do!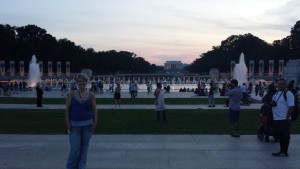 I hope you all find your why! Love ya'll!