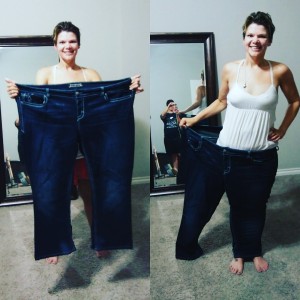 Perfection. Is there such a thing? Can a person be perfect? The answer is no. So why do we constantly set goals for perfection? As women in American culture, this is ingrained from an early age. We tend to think in absolutes. Being good; being bad. On the wagon; off the wagon. Success; failure. I'm on my own journey to try to reprogram myself and I hope to inspire others to reprogram as well.
I've had a few very frank conversations with women who are struggling with their weight, body image issues and/or have had weight loss surgery. I'm always delighted when someone seeks me for advice and inspiration. It's humbling and fulfilling. The thought process that is echoed in every conversation is perfection. "I was bad" "I need to get it together" "I'll be happier if I could just get to such&such weight". But ladies, this is what we have to work towards changing.
Anyone who knows me, knows that I am 100% guilty of all of the above. I have made all of these statements. I can't recall if I've shared this with y'all before but one of the most eye opening conversations that I had was recently with a friend. We were talking about weight loss goals. I had mentioned that a co-worker had an 'ideal figure' and eluded that I'd be 'happy' if I could look that way. We called her over and asked her to share her height and weight. I am literally the SAME height. I weigh within 2 lbs of her and I wear the same size jeans. What the hell? So I had created this image of what I was trying to attain and I couldn't even really see my own success. That was an eye opener for me.
The above interaction made me really think. I've always joked that I'm a perfectionist. I am in some sorts and it fares me well in my work and such things. But it doesn't fare me well for my health, body image and overall happiness.
A friend recently was venting to me about her dissatisfaction with her weight loss. She had told me her weight loss and it was truly amazing and something to be proud of in my eyes. I inquired as to why she was dissatisfied. Her response was that 'others were losing more than her' and that she 'hadn't been as good as she could be'. And here lies the pitfall.
I've been here; I'm still here as a working progress. We should not compare our success to others. There will always be someone who surpasses you; there will always be someone who trails you. You have to place SUCCESS where it needs to be. You have to define it by your own standards; not by the success/failure of others. If we constantly are reaching for perfection as we see it on someone else or a perfection/success we have created, we will ALWAYS fall short. Every. Time.
How many times have you 'fallen off the wagon'? I know I have probably a thousand times. This wagon puts us in this constant cycle–up down up down. Yo-Yo. And each time you have a down, you beat yourself up. We all do this in different ways but I guarantee that if you struggle with your weight like I have that you are NOT kind to yourself. You tell yourself all kinds of negative things and this just adds to the cycle.
I can remember so many diets. It seems I've been on a diet for forever. My weight has literally been on my mind from wake to sleep since I was probably about 12 years old. I'd get these plans in my mind about how I was going to get back on track TOMORROW. I was going to eat right, exercise hard core, no junk food. Tomorrow would come, maybe I'd eat really good all day and then night fall would come and I would binge. Then I'd feel awful. I'd beat myself up and label myself as a failure. THEN I'd eat even worse because now I was off my diet. And so the crazy cycle continued. Continued right on up to 341 lbs.
How do we fix this? How do we fix ourselves? I say–be kind. Be kind to yourself. Ditch the diet. Forgive yourself. Find happiness outside of food. These are my tips for success.
Be Kind. Only say things to yourself that you would say to others. So many times I have looked at myself with disgust and mentally bashed myself. But I wouldn't DARE say these things to another person. What I practice now is some self love. Even when I feel fat or bloated, I find something positive. That's the day I'll put a lil extra make up on. Something to help me feel 'prettier'.
Ditch the diet.  Do I mean pig out? Heck no. It's all about balance. How did you get those extra pounds? You were out of balance. You have heard this time and time again: moderation is the key–you must make a lifestyle change. And it is 100% true. We all want a magic pill that allows us to get the model figure over night and allows us to eat whatever the fuck we want. But that's not reality. Whatever you decide to do to get healthy or lose weight has to be something that you can do forever. Think of it this way, if you starve yourself for the next couple weeks and drop a few pounds…the weeks following you're going to eat and gain it back. It's just the way it works. Calories in/calories out. I could write a whole blog over nutrition but how boring is that? My best advice for nutrition–keep it simple. Eat whole foods. Eat less junk. And if you have the junk, make it small and make it infrequent.
Forgive Yourself. You better believe this is important. Don't beat yourself up. What good will that do? Not a damn bit. Okay…so you ate a whole box of cookies. It happens. Let it go. If you can, think on why you did it. What were you feeling? But more importantly, think about how eating that box of cookies made you feel and commit that to memory then move on. That next meal, you own it. Don't harp on the 'I was so bad' thing. That isn't going to get you anywhere. I love my sweets and if/when I overindulge I think about it afterwards now. Like 'damn. I just ate that whole bag of Milanos over the course of one day. Now my belly hurts. Why did I do that? I was bored. Dang I really don't like how my body feels right now and those cookies aren't helping me reach my goals.' Then you know what I do? I move on. If there are cookies left, I pitch them. Yep. Throw it out. That's what I do. The next meal/snack I try to eat towards my goal (or rather towards my why).
Find Happiness Outside of Food. This is the big one. Live your life. Find what really gives you joy and do it. Don't wait until you're the perfect size. The perfect weight. That day won't ever come. We are imperfect people and we are constantly changing. Shit happens. Don't wait to live you life based on what you think the future you should look like or weigh. Most of us women eat emotionally, bored-happy-sad-lonely-mad-etc. We have to find things/activities to fill these voids. Find your void filler. Also, find and surround yourself with people that bring the best of you out. The people that don't make you question yourself. The people who inspire you. Those people are a crucial key to lasting success. You are who you surround yourself with. I truly believe that.
Yes, I had bariatric surgery to get my excess weight off but I did the work. I've changed my life but more importantly, I've changed my outlook on life. I don't wait for later. I try to live in the now. I want to be the best me possible but I accept that the best me will not be perfect. I'm currently still working on all of these things. It's a daily practice. It doesn't come naturally. It's something I have to work at. But I can tell you this…this me is the most fulfilled I've ever been and it feels amazing!
Go do something outside your comfort zone today. Get active. Live your life! Love you all,