I am coming up on my 2 year surgi-versary. I have managed to lose over 180lbs in over 2.5 years so I have a biiiiiit on extra skin hanging around (pun intended). I've pretty much been maintaining since early 2016. I've been battling with the 'last 5-10lbs' all year pretty much. Instead of being completely, ridiculously hard on myself, I have tried to accept that my body wants to be at this weight. It seems to be where I keep ending up. I can restrict and get down to where I want  to be but as soon as I let up a bit on the diet, right back up I go. When I step back from that scale and really look at myself, my life and how I feel about the two–I'm content. This is a good weight for me. I feel good. I feel healthy. I'm comfortable. I have been working on my mind to just get it right there. We all hate that BMI scale but it still exists and I'm still classified as overweight. But all my numbers are good. I can do all the things in life that I want to do. I'm not hindered in the slightest by my weight. So… I say…fuck that BMI scale. HMPH!
I'm at a good place weight wise. It is now time for my finale. I'm approaching my big surgery date for my 360 abdominoplasty. For those who are not familiar with this surgery, I'll describe it briefly (sorry in advance if I make your skin crawl a bit). It's a fancy tummy tuck but allll the way around. Basically they cut you at your pelvis (where a C-section scar would be) and take that incision all the way around (360). They detach that skin from your body, pull the skin down, cut off the extra, make me a new belly button (I know, crazy, right?), cinch up my abdominal muscles, then pull the bottom up (like a pair of pants) and stitch me back together. Voila! I'm getting rid of my pendulous stomach/skin. This is a major surgery. The pain will be intense. I'll be off of work for weeks. But I'm absolutely thrilled to be doing this. It really is the finale to my weight loss. I'll, of course, be posting lots of before and after pics.
I know what many of you are thinking. "Jessica, why can't you just be happy with  your weight loss." Some of you might even think that it is totally vain to have this surgery. Let's go ahead and set that straight. I can't remember a time where I didn't have this belly. Since childhood, I have always had this stomach. It grew into a fold to where it sat on top of my mons pubis. And there it has sat for all of my adolescence and adulthood. As I have lost weight, it has shrank a little bit and it's not near as dense. Now, it is literally a fold of skin. It has always and continues to make me self conscious. Like "is it gonna flap" "does it smell" "do I need to re-apply baby powder"? Let me ask you–do you have to worry about these things? Grooming was always difficult, as I had to always sit on the toilet to shave properly. In the shower, I have to be sure to lift my fold and scrub really good. This is a warm, dark area. An ideal place for bacteria and yeast to grow. So no, it isn't just vanity. Does vanity play a part? Absolutely. I hate how my belly skin hangs when I do a plank. Or how my belly flops and claps when I do a jumping jack. I can't wear loose pants when I work out because a belly slip would be waaaay more embarrassing than a nip slip. Just saying.
What am I most concerned about though? My emotional reaction. If you remember back to after my arm/breast surgery, I had an unanticipated reaction. Upon first glance at my "new body" I had a panic attack. It took a little bit for this reaction to subside. Although I was very prepared for this surgery and so excited for it, I didn't foresee having a negative reaction to my body. There was a grieving process and then an acceptance of my new body that I had to deal with. This reaction was compounded by the fact that I was changing and I now had a body that Paul never saw. That was devastating to me. With a push from my Lisa and her daughter, I have called and made an appointment with a psychologist that specializes in bariatrics. I'm going to see him in a couple weeks and gear myself up for this surgery!
Enough of that…let's talk progress: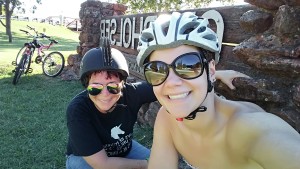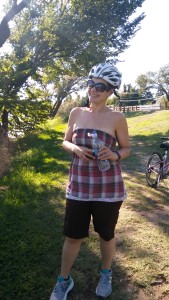 Activity. Lisa and I recently bought mountain bikes. We rode around a local lake that was 8.0 miles. Wow!!! It was a really wonderful experience. Such a nice ride after we figured out how to operate the gears. (We researched this a couple weeks prior to our ride. Gotta love that Google.) It was a big NSV for me. I had never ridden a bike so far. It was invigorating. I wasn't winded or anything. Now…the next day my crotch and thighs were sore but this was to be expected. I really enjoy the bike. I even rode the other day by myself. I enjoyed the breeze in my face and the beautiful scenery near my home. This is a cardio workout I could really get into!!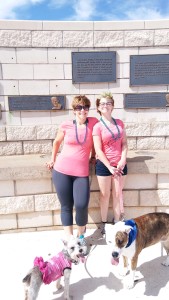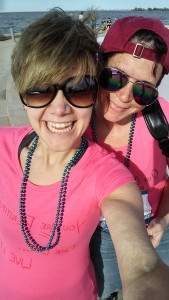 Lisa, myself and her girl child participated in the Out of the Darkness Walk to raise awareness for those who struggle with suicidal ideations and depression.
Recognition. Dietbet reached out to me again about a PR opportunity. I am supposed to have an interview with someone from CatersNews tomorrow. That's kinda awesome. Then, today, I received a package from Waybetter.com enclosed was a workout jacket, water bottle and a note book with a little note from the CEO.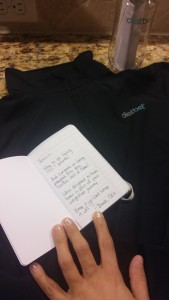 Looking Forward. I have lots of stuff going on and coming up. I'll be getting another round of sclerotherapy done to my legs for my varicose veins. I have about 4 weeks left of nursing school (for my BSN). Lisa and I are checking a few things off of my bucket list/goals: cooking class and to go sailing. Also, Lisa's 40th birthday is in a little over 2 weeks so I'm gearing up for that.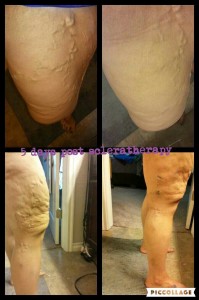 Like always…much love and thanks for the support. Love yourself…move your body!!