Surgery day has come and gone. My mom, Lisa and one of my bestest gal pals were all there to send me to surgery. I didn't sleep much the night before but I was still bright eyed and ready to go!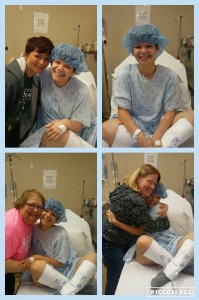 The pre-op nurse stuck me twice before a second nurse got me on her first try. My vital signs were withing normal limits but I was sweaty as the nerves took over–especially under my belly and I thought about how this will no longer be an issue. The nurse read a clause of my living will and complemented me on it. My doctor came in and we discussed additional questions the he marked my body.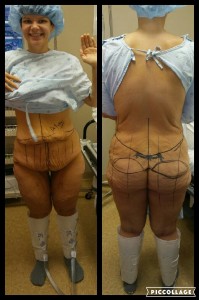 Hugs and kisses right before they took me back and 8 hours later, I woke up in my hospital room with my mom and Lisa by side. The evening went well with moderate pain. They discontinued my foley quickly and getting up the first time was a struggle but I did it with minimal assistance. I was able to walk around the floor. I wasn't too hungry but did eat a smidgen before bedtime.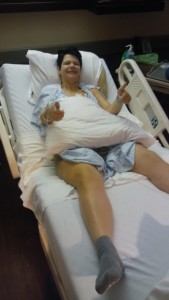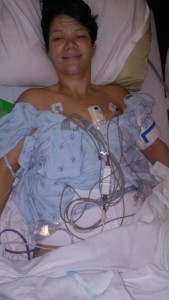 The most difficult part came when Lisa had to go. I was so emotional. I just had this rush of feelings that came over me and I couldn't control them.  I cried and I cried hard. It's fuzzy but I just kept telling her that I don't want her to go as Lisa and mom tried to comfort me.  And I 'knew' that everything was okay but I just had this collision of feelings processing the surgery day and the surgery day that happened 2 years prior…when I never saw Paul again. I was so afraid that I wouldn't see Lisa again. Mom eventually just had to tell Lisa to go. And shortly after she left, I was able to calm down and Mom and I chatted all night long.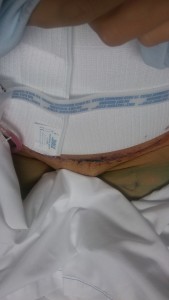 The next morning my surgeon was prompt to come by to check on me. He took down all of my dressings and told me how great everything looked. I looked down and was like "holy hell! I can see my vagina!" The oncoming nurse was there and congratulated me and was excited with me. It was such an emotional moment!
Over the weekend, Lisa took AMAZING care of me. She kept up with all of my meds, emptied my drains, moved the couch so she could sleep next to me, etc. I can't say enough good things about her.
Everything is soooooo tight! The drains are uncomfortable. I am wearing an abdominal binder and everything itches! My surgeon forewarned me that I wouldn't be able to walk completely upright for awhile and boy was he right!! I'm really glad that I rented a recliner and that I have lots of pillows because positioning is key!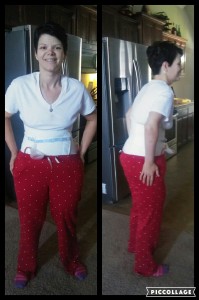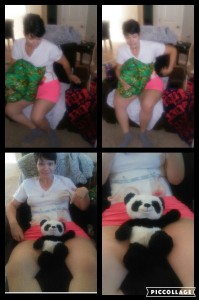 I'm lucky to have had my two nurse buddies come by to help Lisa and I with showers. Showering is quite the work out, even with two people helping you. Seeing myself in the mirror this time was not as traumatic as my previous surgery. I had definitely prepared myself for it. It was really odd seeing myself in the mirror. There I stood…no udder. Ive never been able to see my belly button and now…I have a belly button!! Overall, it was exciting and I didn't cry.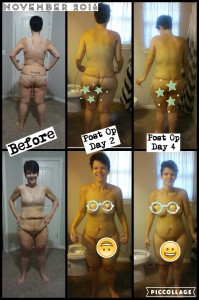 Sleeping is an issue right now and it isn't just one thing. It is a combination: I'm in pain, uncomfortable and emotional. At this point, I'm able to do almost everything for myself except for showering and picking stuff up. So I'm hoping to not HAVE to have a overnight sitter by the end of the week. I'm working on building up my endurance, standing more upright and pain management.
Tomorrow is my 1 week post op appointment and I am really hoping to get at least one of my JP drains out.