Currently I am in Outpatient Surgery waiting on Lisa while she has her uterus evicted. I'm glad that this day has finally come for her and that I get to be here for her.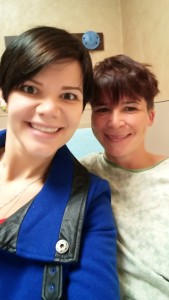 ---
---
Yesterday marked my 4 week post op mark! It seems like forever but also like a blink of an eye. Weird how that goes.  I got my release to go back to work Monday on light duty. I went to work to turn all that in and it was so nice to see all of my co-workers. I really REALLY have missed them! They are so sweet! I really do have an amazing work family.
In preparation for my return to work, I bought a new pair of scrubs. That was quite the workout. I refused to take my clothes off to try them on for fear I would tire and not be able to get them back on. lol. It was pretty exciting though. I bought an XS top (it does have a stretchy side panel) and a petite small pant! Wow! I just can't believe it. To top that off, I tried on my medium scrubs and they are so baggy now. Thank goodness for drawstrings because scrubs are so expensive!!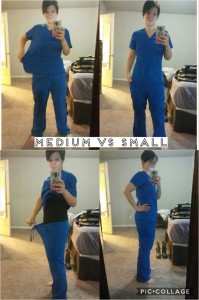 While at the surgeon's office, I had them take a look at my pelvis incision because it STILL is not approximated! Well…turns out that there were some staples that are suppose to dissolve which had poked through under the glue and have kept my incision from healing properly!! She pulled the remaining staple and after just a day it already looks so much better.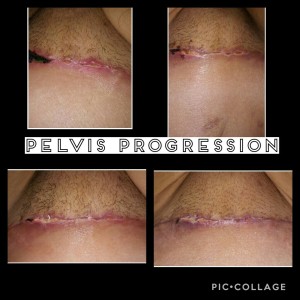 Overall, my incisions are looking really good. I'm very pleased with them except my pelvis. The swelling has really gone down quite a bit. As you can see, the swelling in my hips was quite severe and now it has calmed down.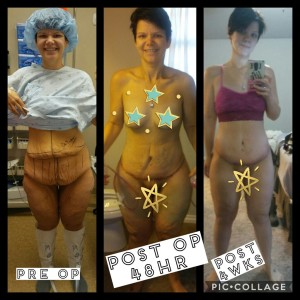 My activity tolerance is better. Showers still continue to be a workout. Sigh. I'm now having back pain. It is in my lower back. It sucks because there isn't much that I can do about it since I can't stretch or get an adjustment. Basically, I'm just really tight and I think I've slept wrong…couple that with inactivity and VOILA back pain! I talked to my exercise physiologist and she suggested ham string stretches. That has REALLY helped. I've also been using essential oils and alternating cold/hot packs. Slowly but surely I'm getting there.
Mobility wise I'm doing a lot better. My abs and back are so tight that I can't arch either way. I can ALMOST bend all the way over but have to squat just a little bit to touch the ground. I'm not able to twist yet. I can tolerate lying on my sides and back. The numbness in my booty is still there. I'm not sure if the severity is less or I'm just used to the 'bubble butt'. Again, it feels like I have two half deflated balls in my buttcheeks!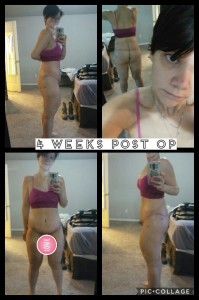 ---
I had my 2 year bariatric surgery follow up. I was quite nervous about going in because of the weigh in. I remember from last surgery I gained over 10 lbs in water weight and it took me over a month to lose it. And this surgery was much more invasive. Although they removed at least 7lbs of skin/tissue, I knew that I'd still be up on the scale. Because I know myself, I put my scale up before surgery so that I wouldn't be torturing myself with the numbers! I was 162ish pre-op and I weighed in at 158.3. Last weigh in at the doctor in July was 157.8. I was relieved but I'd be lying if I said I wasn't bothered by the gain. It was my first gain at the doctor since July 2014. My APRN laughed at me and told me I was silly. Pfft. I'm trying really hard not to be weight obsessive and look at the bigger picture. My blood pressure was 122/69. My HR 67. I fit in the chairs with extra space. My belly didn't sit on my lap when I sat on the examine table. I'm excited to exercise next year. I surely have come a long way. As my best buddy Kati said ..I've gone from pretty pannus to pretty panties! Love you all!