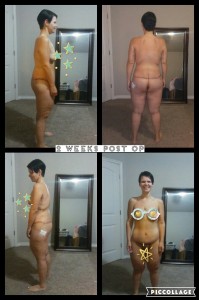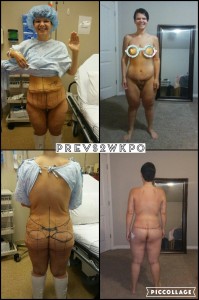 Two week post op fell on Thanksgiving this year. As you can imagine, it has been a very busy week.
I saw my surgeon to look at a few areas that were bleeding. I've been quite concerned about my pelvis. It has black areas and has opened a little. It is also the area I'm most concerned about. He looked it over and told me that everything is healing nicely but I do need to take it easy. He confirmed that he did want me to complete my 4 weeks off of work. The black area on my pelvis is a mix of blood in the surgical glue. He advised to place bacitracin and bandages over the concerning areas. Then he pulled my second drain!!! Again, it felt like a snake crawling out of my back. So creepy. I am so relieved to have that drain gone. It was literally a pain in my ass. (Pun intended lol)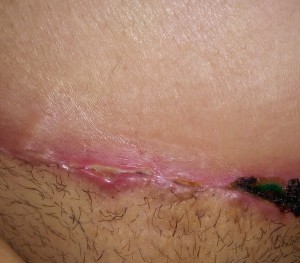 Having both drains out means that I have graduated from abdominal binder to bodyshaper which I will be in for the next 4-8 weeks. When I got home, I showered and set out on my challenge. I am not even exaggerating a little bit when I tell you that it took me 45+ minutes and it was like putting on pantyhose that were 3 sizes too small. If you have this procedure, I highly recommend that you do this with assistance. Lisa was at work and I was home alone…and well let's face it…I so thoughtI could do it myself. Turns out I was right but geez. Once I did struggle into it, it felt great. All my parts were hugged and I felt very secure. At this point, it is not comfortable to be nude, as you feel that everything will fall out. I opted for this type of shaper after of advice from others that have had similar procedures and I don't have to worry about the top rolling down.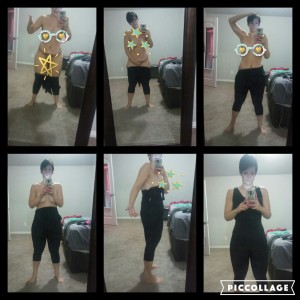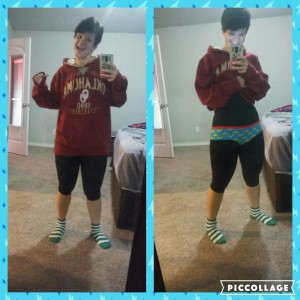 I'm trying to be more active. I'm on my own at home but not able to bend for another week (doctor's order). It is a challenge. I might be slightly stubborn. My mom loaned me her grabber and it has been a life saver. I tire very easily. Mollie and I have gone on short walks after which I feel like I've worked a 12 hour shift. The night sweats have stopped so that's nice.  I'm no longer on pain medication. Extra strength tylenol seems to do the trick but I do require it about every 6 hours.
After 2 weeks of being pretty much home bound, I ventured out. It felt wonderful to get dressed in real clothes. I drove for the first time. I padded myself with a pillow and headed downtown for vanilla extract. I also got myself a manicure. It was a nice treat. The sun felt great and it was nice to get out.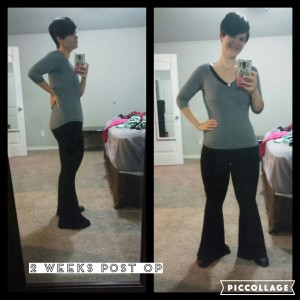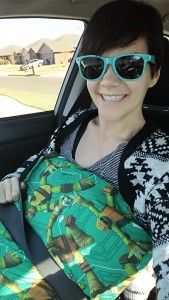 I'm beyond excited about my belly button. It's so weird to actually see it. With my rolls before, I couldn't see it–ever! The weird part, you can see my heart beat. Yes. The pulsating from my abdominal aorta. It's wicked. As I've lost weight, I've been able to feel it but now you can see it! Crazy!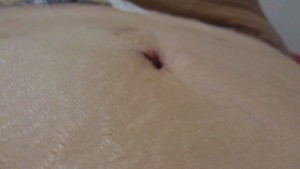 Overall, I'm healing very well. I'm thankful for the time to recover. As I learned from last time, it takes time and lots of energy. It has been emotionally and physically draining to go through this transformation. Right now, my struggles are: sitting on my butt as it is numb and the left side has not dropped–it literally feels like I'm sitting on balls; activity tolerance; pain in my pelvis; and my buttcheeks have not come together and the incision across my crack is painful and uncomfortable.
---
This marks the third Thanksgiving without Paul. To say that it is a struggle is an understatement. There are no words that can describe the feeling. On a brighter note though, it has been the best family time I've experienced in years.
We had a lovely Thanksgiving lunch at mom's–just the immediate family. It was quaint. I really enjoyed the time we had together. It's very rare that we have time all together with schedule and distance that play against us.
Paul's family opened their home and hearts to Lisa this holiday. It was so very unexpected and literally brought tears to my eyes. Never in my wildest dreams would I have expected this. They have religious beliefs against same sex relationships (as previously discussed). And to have them invite my girlfriend into the home of my husband's family is just amazing. Lisa was beyond nervous but it all went very well. I just love them so much. I'm so lucky to have a family like this.
My mom didn't invite my dad to Thanksgiving (which is a long story). It was devastating to him but it allowed us (myself and my brother and sister) to have alone time with him. We spent a whole day together. We (really they did because I couldn't bend enough) played pool, went shopping and had lots of laughs with him. It was a first and very enjoyable time.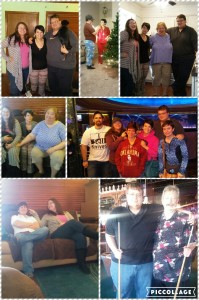 ---
Entering into week 3: I'm excited that I will soon be able to bend. Hoping to become more active and not tire quite so easily. I have to get back into gear as Lisa's surgery is coming up and then I'll be going back to work! Time is flying by!!! Love you all!