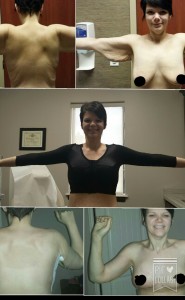 I had my one week post op follow up with my surgeon today. I discussed with him all of my concerns which included that my right nipple is slightly to the right and the underside is slightly red. He assured me that it will take weeks to heal and for the swelling to decrease but when it does all that will subside. He is very happy with my progress. Next week I see him again and he will be removing my surgical tape.
Healing status: my left nipple does not have much feeling. My right does. They are starting to actually look like nipples instead of weird cones. I still have numbness on the underside of both breasts. And the places with feeling alternate itching and pain. How obnoxious. As for my arms, they are mostly numb around the incision site. The source of the height of pain is at the axillary. No surprise there. Every bend of the arm I feel it. Ugh.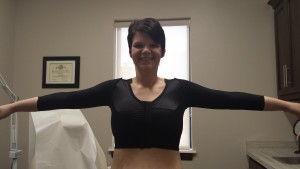 The best part was that he let me put on my compression vest/bra in place of my ace wrap and hospital bra. It was amazing! It feels soooo much better. The pressure is even. It's difficult to explain but it's amazing. But it's also hot. It's satin and it doesn't breathe as well as I'd like it to be.
Overall, I feel great about my surgery. I feel fat. And don't even one of you discount that feeling. I'm bloated. First off, I gained 14 lbs from surgery. Then I didn't use my nurse knowledge and add docusate to my mountain of daily meds until day 6 when I felt my belly and was like 'ooo that's not squishy skin'. Ugh. I won't regal you with all the lovely details. (Although, I, of course, can have casual poo talk like most woman casually talk about jewelry.) I'm fairly certain I scarred Lisa's daughter when we went to the store and I loaded up the cart with my plan for success. Anyways, I ended my seven days of constipation.
I still feel extremely bloated. My abdomen/belly is round and it's usually just lumpy (from excess skin). I rationally know that when I get back to my regular activity level and shed this water weight that all will be well again. But since I'm thoroughly aware of my alter-ego— ya know that psychopathic weight obsessive irrational eternal fat girl—I asked Lisa to hide my scale so that I don't torture myself. This has been a great thing for me. I feel bloated/fat but at least I don't have to obsess over the number.
Running around today totally wore me out and when I got home I pretty much passed out for 2 hours unintentionally. I'm thankful to have one more day. Back to work Wednesday.
Lastly, I just wanna say a quick thank you to all of you that read my thoughts on here and all the amazing support that I have received. It's truly overwhelming and wonderful.
Hope your day was great. If it wasn't, make tomorrow one.